Archive for December 2011
---
Jérôme is one of EQUAL!'s vice-presidents, based in Hong Kong, China. Get to know him, as part of our 'Meet the Board' series!
What country is on the top of your list to visit?
Japan has always been my all-time favorite. Although I've already traveled there a couple of times, its culture never fails to fascinate me every single time! Next year though my partner and I are going to try something a little different and spend a vacation in the US (hello, NYC!) – which is kind of exotic as we are so far away from it here. Oh, and I don't mention China because that's where we currently live – but there are so many things to do here, too!
What sport do you practice?
I've been playing badminton for a while (and since it's very popular in Asia, it's somewhat easy to find venues to play in) and recently I've started to enjoy squash, too (although I'm terrible at it!). But at least it's fun – much more so to me than, say, being on a treadmill. I'm actually a specialist in taking gym subscriptions I never use; I'm proud to say I'm a bit stronger-willed now – I will simply refuse to sign any more of those contracts ;-).
What is the decisive factor that triggered your involvement in EQUAL!?
In 2010 my partner and I entered into a civil union (for those of you familiar with the French system – a 'PACS') and I suddenly realized that I could not get the same benefits as my co-workers. This led me to discuss with my local HR team to try and harmonize those benefits, and shortly after to take a more active role in EQUAL's Board.

The other interesting thing is that while we have a strong and active membership in the US and Europe, there aren't that many EQUAL! members here in Asia-Pacific. So I thought I'd get the ball rolling and make our organization more visible in the region – which is sometimes a challenge as GLBT topics are often not openly discussed in the society at large. Thankfully my co-workers have shown nothing but support, so I'm very hopeful things can change for the better.
What is the craziest thing you'd do for the one you love?
Spending the Christmas/New Year break at my in-laws? 😉
Which movies made you cry/laugh the most?
Hmmm, tough one. I'm more of a TV series person though, so I'll just say that one of the very few times I've actually cried in front of an episode, it was the 'Six Feet Under' series finale. Loved the series – one of HBO's finest.

And in terms of laughing – no brainer for me – it's any episode of 30 Rock. Tina Fey is just that good!
Sylvie is President of HomoSFèRe, an NGO which gathers lesbian, gay, bi and trans employees of the SFR group and their friends. SFR is the second biggest telecom service provider in France, and its workforce includes more than 10,000 employees.
Sylvie has been working at SFR for 12 years; she was a victim of lesbophobia at work, which pushed her to change things in the company so that any employee could discuss freely about this topic and GLBT matters in general. Then, as SFR was working on its "Diversity" policy, she started thinking about creating an organization within the company; when she saw the float of Homoboulot at the Paris GLBT Pride – and in particular with signs of Mobilisnoo, the LGBT group within France Telecom Orange – she had made up her mind! With other employees of the group, Sylvie launched HomoSFèRe in October 2009 – just two years ago.
Very quickly, the Employee Resource Group gets visible by posting an article on the company-wide intranet which allows to get a snapshot of the perception of people, with some hostile reactions arguing the usual comments on splitting private/professional life or being cliquish, somewhat revealing that taboo was still very present for some employees.
Since then the NGO is regularly in contact with the executive team (although it is sometimes a challenge to be heard) in particular to set up visibility actions inside the company walls, e.g. for the international day against homophobia (IDAHO) on May 17 or for the World Aids Day on December 1st. These actions are key in developing awareness for employees and favor prevention instead of limiting the actions to punishing inappropriate actions.
Glenda is EQUAL!'s Treasurer and former Co-President, as well as the Columbus, OH Chapter representative. Get to know her, as part of our 'Meet the Board' series!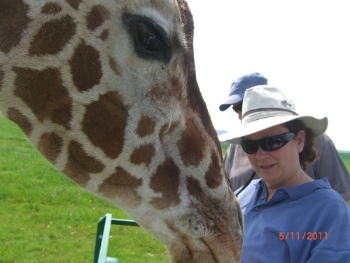 What country is on the top of your list to visit?
I have traveled so much for work that I feel that I have been to all of my top countries. However, I would LOVE to return to Greece, Belgium, Canada, Germany, Austria, Australia, Switzerland, and Ireland. I don't know if I will make any of those trips, but it is so fun to remember the great things I saw and was able to do there.
What sport do you practice?
For over 30 years I have ridden Dressage – this is an equine sport that you'll find in the Olympics, however, you won't find me there. I enjoy Dressage because no matter how much I train, I learn something new everyday. I own several horses and my greatest riding partner is named September. He was imported from Germany to the states and I love him dearly.
What job or task do you believe you have had your greatest impact at ALU?
During my years as Director in mobility, I had a large team at three locations and I feel that those were my years of greatest impact. Being able to work with a highly motivated and generally very happy team was rewarding for me personally. Being open, honest, approachable and clear in my expectations seemed to have a very positive impact with my department.
What is the decisive factor that triggered your involvement in EQUAL!?
I started many years ago with the founding organization LEAGUE. I got involved with the then struggling organization as people were trying to obtain corporate recognition. It angered me how co-workers and corporate were responding as GLBT folks were trying to organize. I was at a great point in my career, was promotable, very well thought of, and I decided that I could risk being public about my support and challenging upper management. This was one of the best decisions of my life – and – career.
Which movies made you cry/laugh the most?
Although I saw these many years ago, I can still remember laughing so loudly at Ghostbusters that people were turning their heads and looking at me my date. And as for crying, The Color Purple had me and a friend sobbing. And we couldn't stop. His partner got up and moved away from us.