Tuesday, October 11th is National Coming Out Day (NCOD) 2011. NCOD is a day when lesbian, gay, bisexual, and transgender people and their allies are encouraged to take the next step in coming out of the closet or increasing awareness.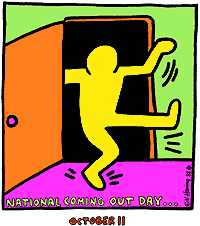 In observance of NCOD, EQUAL! invites you to participate in the following on-line educational events at any time: * Ally View of Repeal of Don't Ask, Don't Tell Policy * Coming Out Stories at Alcatel-Lucent * LGBT webcast classes (LGBT 101, LGBT 201, Creating a Safe Work Environment for LGBT Staff)
ALU Employees: go to Engage for additional information.
---
(photo courtesy of the Human Rights Campaign)