What is World AIDS Day?
December 1st is World AIDS Day — a call for a spirit of social tolerance and a greater exchange of information on HIV/AIDS. Established by the World Health Organization in 1988, World AIDS Day serves to focus global attention on the devastating impact of the HIV/AIDS epidemic, bringing messages of compassion, hope, solidarity & understanding about AIDS to every country in the world.
Observed annually on December 1, a range of activities are organized during the weeks and days before and after the official commemoration. It is a day designed to encourage public support for and development of programs to prevent the spread of HIV infection and to provide education and awareness of issues surrounding HIV/AIDS.
World AIDS Day Events at Alcatel-Lucent
This year the following Alcatel-Lucent's Employee Business Partners are partnering together to host World AIDS Day events at Alcatel-Lucent.
EQUAL! (Supporting Gay, Lesbian, Bisexual and Transgender Employees and Their Friends and Family)
ABLE (Leaders of African Descent)
IDEAL (Individuals Dedicated to Enabling Accessibility in Life)
LUNA (United Native Americans at Alcatel-Lucent)
HISPA (Hispanic Association of Alcatel-Lucent Employees)
WLN Chicagoland Chapter (Women's Leadership Network — Chicagoland Chapter)
The following events will be held in Alcatel-Lucent on this occasion:
Status of the global HIV/AIDS day epidemic on Dec. 1st by Kristin M. Hartsaw, Case Management Supervisor, DuPage County Health Department in Illinois
World Holiday Bake Sale Fundraiser in Naperville on Nov. 30th in Alcatel-Lucent's premises to raise funds for the Annual EQUAL! Holiday Stocking Drive for the HIV/AIDS clients of the Open Door Clinic in Aurora and Elgin Illinois. Stop by to purchase cookies, cupcakes, cakes, fruit baskest, and nut baskets. More details on the stocking drive will be available soon!
We also invite everyone to light a candle at home on that day, wear a red ribbon throughout the day and/or participate in other local World AIDS Day events scheduled in your community.
The Red Ribbon Project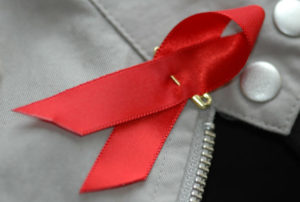 The red ribbon is a symbol of hope. Wear it to show your commitment to the fight against AIDS; it unifies the many voices seeking a meaningful response to the AIDS epidemic, serves as a constant reminder of the many people suffering as a result of this disease, and of the many people working toward a cure — a day without AIDS.
More Information
---
(images courtesy of worldaidsday.org)