This week, meet Dotti — EQUAL!'s Secretary, based in Murray Hill, NJ.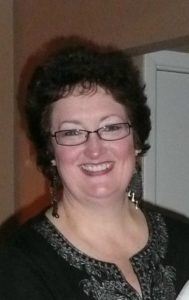 What animal scares you the most?
Man scares me the most! We are the only animal that kills for no reason, that shows prejudice, and is greedy. We are the only animal which feels free to waste our natural resources and refuses to face the reality that the resources of this world are, in fact, limited – not limitless.
What country is on the top of your list to visit?
I'd love to visit England, Wales, and Ireland – but that may be because I feel like I wouldn't get lost since we (almost) speak the same language!

And then there is France. When I was in high school – several decades ago – I went with my French class to France. We traveled to Paris, Normandy, Mont St. Michel, Versailles, and several other locations. We visited castles and saw the stained glass windows of Notre Dame de Chartres. I've never forgotten these places. My friend and I walked all over Paris and we had such a great time!

I'd love to return to France with my spouse, Teri. Teri's interest in France began when she and I watched a TV show about Brittany – the Travel Channel show, "Anthony Bourdain – No Reservations". Teri was so impressed by the landscape, the people, and the food, she has now joined me in my hope to return to France one day.
What job or task do you believe has had the greatest impact on ALU?
I would like to think that all my work for ALU has had a good impact on the corporation overall. However, I have to say that I think that my work as a Project Manager in LEOM (Lab Environment and Operations Management) supporting the Murray Hill Wireless labs has had the greatest impact.

My job is to learn about upcoming changes and/or additions to the MH labs, to work with my team to identify and schedule all the necessary tasks to complete the changes, and to monitor the tasks as they're completed to ensure the work is correct and completed on schedule.

It is my job to help the various test teams meet their schedules and get the latest CDMA/EVDO and LTE releases out to our customers on time and with quality. It's also my job to make my fellow LEOMers' work as easy as possible by identifying upcoming lab changes as far in advance as possible, to set priorities, and to make sure all the proper tasks are identified and assigned to the correct LEOM team member. I also do what I can to reduce costs, by finding ways for teams to share equipment and/or reduce the amount of equipment within the labs.
What is the decisive factor that triggered your involvement in EQUAL!?
Back in 1996⁄1997, I was working as an independent SAP software consultant. I was also quite involved in the LGBT community here in NJ, so I knew about League, AT&T's LGBT group. At that time I was offered a position with Lucent in their SAP Center of Excellence. I was very torn about giving up my independence and taking a job with such a large company.

Also back then, Teri and I were planning our commitment ceremony. It was to take place in May, 1997, and we were immersed in looking for gay-friendly places for the ceremony, food suppliers, etc. I started thinking about how gay-friendly the company must be and how great it would be to work for a company with these values.

At that time, Lucent was actually advertising on TV; and while I was pondering whether or not to take the job with Lucent, I saw one of the Lucent commercials. I took it as a sign that I should "go for it!" I accepted the position. Once I joined Lucent, I immediately looked for, and joined EQUAL!. I've been involved with EQUAL! ever since.
Which movies made you cry/laugh the most?
This is a hard question! I've seen so many movies over the years. One that recently brought me to tears (and to laughter) is "50/50" a movie about a young man who finds out he has cancer. It doesn't sound like a movie that would make you laugh – but it did! I'd find myself with tears streaming down my face, and then laughing out loud. I highly recommend it!

And then there are the TV shows. "Modern Family" and "Up All Night" are two great shows. I love them! I am the proud Grand mama of Adrian Michele, the daughter of my step-daughter, Denise (Teri's daughter), and Denise's spouse (the birth-mother) Nicole. It's wonderful to see my family reflected in the characters of "Modern Family"; and "Up All Night" shows me that everyone has the same hopes, dreams, and concerns about the children in their lives!