Sue — our Westford, Massachusetts-based VP — is our guest this week, in one of the last "Meet the Board" interviews.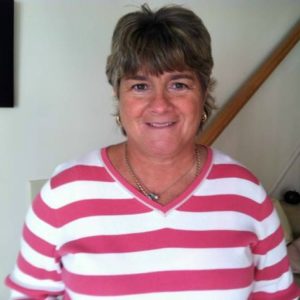 What country is on the top of your list to visit?
I would have to say Portugal. My Dad's is Portuguese and in 2001 my parents, my partner at the time and I were suppose to go to Portugal for 2 weeks. We had planned the trip for a year then 9⁄11 happened. We decided to cancel the trip and I have never had the chance to reschedule it.
What sport do you practice?
From a very young age I was involved in sports, I played Field hockey, basketball and softball from Junior High school through High School. In college I played Field Hockey and Softball and learned to play Racquetball. I continued to play Softball and Racquetball until I was 40 then my knees and my body could no longer take the wear and tear so I learned to play Golf. In the Northeast part of the US you are limited by weather as to how long the golf season is, but I take full advantage when the weather is good and play as much as I can. I enjoy being outside playing on different courses and meeting new people on the course. I really haven't had a bad experience playing with anyone that I have met and I have played in a few different parts of the United States. Last summer I started Kayaking and love it. So I get the best of both worlds on land and sea.
What job or task do you believe you have had your greatest impact at ALU?
From 1998 through 2008 I worked at a manufacturing facility in Massachusetts. I had many different job functions there including Managing the Customer Service team and the Material Planning team. The one that I feel had the greatest impact at ALU was when I was the Manager of the Warehouse. We were responsible for getting product in the door so that the manufacturing shops could build the part to ship to customer. We were responsible for inventory, getting orders shipped to the customer on time, processing customer's repairs through the system and providing support for different organizations throughout the building that needed help from our group. At the end of each day and especially at the end of each quarter we were responsible for making sure that the customer orders were delivered on time. At the end of each quarter we made sure that we did not leave until the last possible part that could ship left the building and we were able to capture revenue for the company. I guess knowing that my team help contribute to the bottom line of the company made that my greatest impact to ALU.
What is the decisive factor that triggered your involvement in EQUAL!?
It was probably the summer of 1993, I was at a Diversity Training in Connecticut with my work group. It was the end of the first day of training. We were taking a break but the instructor explained that the next section everyone was going to line up in a line based on where you fit in the world as of that day. Example White men tended to be at the front of the line, Women possible in the middle, people of ethnicity after the women and LGBT people in my eyes and my heart fell toward end of the line. I went up to instructor and told him that I probably would not participate in that section because I was not ready to come out to everyone and did not want to lie about where I fit on the continuum. I left the class and went to call a close friend to ask for his opinion. I decided it was time to come out. So I went back into the class and my boss at the time somehow was role playing that she was a LGBT employee and starting explaining what it was like in the workplace. I decided I needed to step up and speak out. So I interrupted her and came out to everyone. It was an experience I never will forget. A lot of positive comments and hugs from my co-workers and a big weight was lifted off my shoulders. When I got back some months later I saw something about the EQUAL! Conference in Boston and decided that I wanted to get involved with the group. I was located in Boston at the time and the Massachusetts group was in North Andover so I became a member. It was not until my job changed and I was working in North Andover that I got really involved in EQUAL! And eventually was elected as one of the Massachusetts Leaders and then eventually became the Treasurer for EQUAL!. When I was close to losing my job as they were closing the manufacturing plant I decided to resign as treasurer. I then found a job within the company and decided to get back involved in EQUAL! and now I am one of the EQUAL! Female Vice Presidents.
Which movies made you cry/laugh the most?
I am a sap when it comes to movies making me cry. I cry at Hallmark commercials but if I had to pick one movie I would say it would be Beaches. The friendship those two women shared and the ups and downs of their relationship was something I admired. It reminds me of the relationship with my best friend for over 30 years and the ups and downs we have had and the support we have given each other during our lives. As for movies that make me laugh, I have a couple of favorites. I loved League of their Own which was about the beginning of the Women's professional baseball League during the war and the ups and downs of their first season. One of the best sayings in that movie that that I love the most is – Crying are you crying there is no crying in baseball. My other favorite is The Replacements about a group of guys who come in and play professional football while the real teams are on strike. I guess you can say I am a sports nut through and through.