by Ryk Koscielski, World AIDS Day Chair at Alcatel-Lucent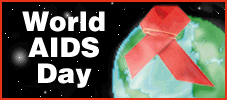 December 1 was World AIDS Day and Alcatel-Lucent Employee Business Partners are partnering to host events to commemorate the day and to provide awareness.
This year the following Alcatel-Lucent EBPs (Employee Business Partners) are partnering together to host World AIDS Day events at Alcatel-Lucent.
4A (Asian/Pacific Association for Advancement at Alcatel-Lucent)
ABLE (Leaders of African Descent)
EQUAL!(Supporting Gay, Lesbian, Bisexual and Transgender Employees and Their Friends and Family)
HISPA (Hispanic Association of Alcatel-Lucent Employees)
IDEAL (Individuals Dedicated to Enabling Accessibility in Life)
LUNA (United Native Americans at Alcatel-Lucent)
VALOR(Vetrans at Alcatel-Lucent Organization)
WLN Chicagoland Chapter (Women's Leadership Network — Chicagoland Chapter)
Events include the following:
World Holiday Bake Sale and Alternative Snacks Fundraiser in Naperville on Tuesday, December 4th in Naperville to raise funds for the Annual EQUAL! Holiday Stocking Drive for the HIV/AIDS clients of the Open Door Clinic in Aurora and Elgin Illinois.
EQUAL! Holiday Stocking Drive — For the nineteenth year, EQUAL! (Northern Illinois chapter) is coordinating an annual holiday stocking drive for people with HIV/AIDS. As in past years, they will be providing stockings for the clients of the Open Door Clinic in Aurora and Elgin. The recipients of these stockings will be low-income adults, both male and female, living with HIV/AIDS. Help make the holidays a little brighter for those in need. Last year, the volunteers delivered more than 100 stockings and gift bags. Please consider helping them meet or exceed 100 stockings this year. You can help by donating money or small personal items for one or more stockings.
"Pedro: The Movie" viewing/discussion on December 10 or on-line at your convenience, sponsored by EQUAL!, IDEAL, VALOR and ABLE.
World AIDS Day 2011 Speaker Replay: Kristin M. Hartsaw, Case Management Supervisor, DuPage County Health Department in Illinois, spoke on December 1, 2011 about the global HIV/AIDS epidemic.
More details are available on Engage (Alcatel-Lucent internal site).
If you have any questions about World AIDS Day, please get in touch.
---
(banner photo by JoséMa Orsini on Flickr)